Resistance without Reservation-defending Skwelkwek'welt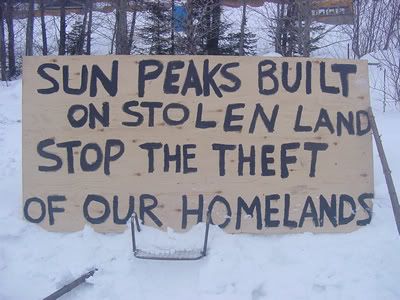 The Secwepemc Peoples are currently fighting the expansion of a ski resort, built upon and encroaching into their unceded territory and waters. The Secwepemc homeland, of course, predates the construction of the provincial boundaries that now encompass it; British Columbia, Canada.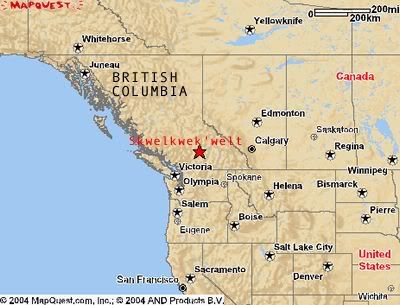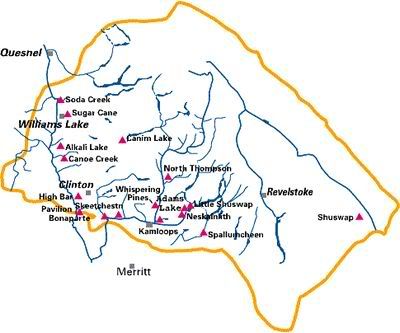 The ski resort, Sun Peaks, was constructed on Secwepemc land, which they call Skwelkwek'welt. In 1997, the BC government approved a $70 million expansion plan which would add 20,000 bed units as well as ski runs to Mt Morrisey, which was undisturbed. Ignoring the protests of the Secwepemc Peoples, Land and Water BC granted new leases to Sun Peaks in June 2001.
As was written in the invitation to Secwepemc Territories"Sun Peaks resort is built on Secwepmc territories, land that has never been ceded, released or surrendered. The BC government and Sun Peaks therefore has no jurisdiction over the Secwepemc people or our lands. Despite the recognition of the inherent land rights of Aboriginal People as Aboriginal Title in Delgaamukw and despite the Haide decision that requires provincial interests to consult, obtain consent and accomodate Aboriginal interests prior to pursuing development on Aboriginal territories, federal and provincial governments still insist indigenous peoples must prove their Title within the court system rather than abiding by the principle of the Title itself."
Over 50 elders and youth have been arrested attempting to defend their lands. Most of the arrests are for trespassing and 4 youths spent 90 days in jail for defending their lands. They have engaged in peaceful protests that have centered around information blockades and erecting community buildings, which are then destroyed by the authorities. Sweatlodges and ceremonial structures have also been destroyed. (We will be providing more in depth information into the protests, arrests and persecution of the defenders, in upcoming entries.)
Sun Peaks announced, in June 2004, another expansion phase that will total $ 285 million and will develop 10,000 more bed units over the next 10 years. In response, this weekend has been selected as a date for convergence.
We are posting the call for "resistance without reservation" and will keep our readers informed about any new developments.
Resistance Without Reservation"
Sunday August 29th is the day of a gathering called Resistance Without Reservation - Convergence Against Sun Peaks to Protect Unceded Territories. The gathering is organized by Land, Freedom Decolonization Coalition in conjunction with the Native Youth Movement - Secwepemc Chapter, and the Skwek'wekwelt Protection Center.
Posters promoting the event include, "With the 2010 Olympic bid, environmental destruction and expansion on unceded territories will be perpetuated yet further. In the spirit of solidarity movements that honour front-line struggles of communities, rather than organizing actions in the city, it is imperative to escalate the fight against state and corporate colonialism on the territories itself. We stand united in protesting the Canadian governments continued criminalization of the Secwepemc people."
On the surface, it seems to critics that this NYM action is mere militancy - speaking out against Sun Peaks Resort expansion and the British Columbia government's habit of aquiescing to corporate needs, rather than recognizing and respecting Aboriginal Rights. But even well respected First Nation leaders who have embraced the BC Treaty process, will agree with the principles.
The reality as seen through an Aboriginal lens, is that as negotiations drag on, producing only small economic side-deals, more First Nation lands and natural resources become alienated from their owners, and continue to pour billions of dollars into private and public treasuries.
The protestors' drama, while not perfomed in negotiation boardrooms, relies on a script written clandestinely, in the hearts of many First Nation leaders, "Sun Peaks Resort is built in Secwepemc territories, land which has never been ceded, released, nor surrendered. The BC government therefore has no authority over the Secwepemc people or their territories, or over the resources within the land".
BACKGROUND
Read previous reports, view photos etc.
http://www.turtleisland.org/news/news-secwepemc.htm