"we can't and should never have trusted this process"
The Native Times reported on the Supreme Courts refusal to review the Cayuga land case
The current makeup of the United States Supreme Court is being called the "most anti-Indian court in the history" of the country as justices refuse to hear a case featuring an Oklahoma tribe as a co-plaintiff.

The Seneca-Cayuga Tribe of Oklahoma and the Cayuga Indian Nation of New York had hoped justices would review a June of 2005 ruling against their land claims that was issued by the New York-based U.S. 2nd Circuit Court of Appeals.

The appeals court ruling turned what had been victory for the tribes into a defeat: It overturned a 1994 decision that awarded the tribes $248 million in damages, with a judge agreeing that the state illegally took their land.

But justices on the Supreme Court without comment refused to review the appeals court case, delighting the tribes' opponents. native times article
Clint Halftown,Cayuga, was quoted in the article.
"The Cayuga people are disappointed but not surprised," said Clint Halftown. "Our history has taught us to expect little, and today's decision confirms what we always expected — that we can't and should never have trusted this process."
Many native people have always viewed the settler legal system as a dead end option for seeking redress. That awareness is beginning to build and spread rapidly in all segments of ndn country. There is a growing disillusionment even amongst tribal bureaucrats who have invested years of their lives in pursuit of justice in the U.S/Canadian judicial system.
The land reclamation at Six Nations offers some valuable lessons for those who would rather push the issue today instead of letting it be drawn out over decades and eventually dismissed.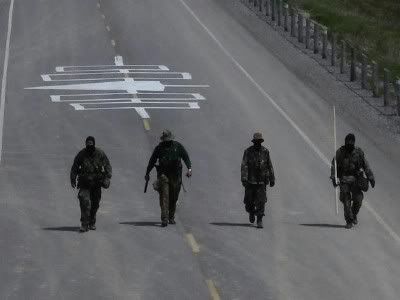 "Rezervoir Dogs"-returning after chasing off some would be barricade breachers.