"Our lives are more precious than gold"
Indian Country Today recently featured the Newmont protest on their website.
Indigenous join global protest of Newmont gold mining practices

ARAPAHOE COUNTY, Colo. - Western Shoshone and Colville tribal members protested in early May at Newmont Mining Corp.'s annual shareholders meeting, uniting with indigenous from Peru, Indonesia and Ghana to create a protest over the pollution and scarred land resulting from gold mining.

''Our lives are more precious than gold,'' read the sign of Mark Tilsen, of Porcupine, S.D., who was among those protesting April 25 at Newmont's annual meeting, held this year at Inverness Hotel, south of Denver.

Western Shoshone Carrie Dann protested and demanded that Newmont halt the destruction of Western Shoshone lands for gold mining in Nevada.

''The U.N. Committee on the Elimination of Racial Discrimination agreed with us last month and has told the United States to 'freeze' any efforts to privatize our lands, and to 'stop' any new mining projects or other resource extraction and exploitation,'' Dann said. link to article
(IP3).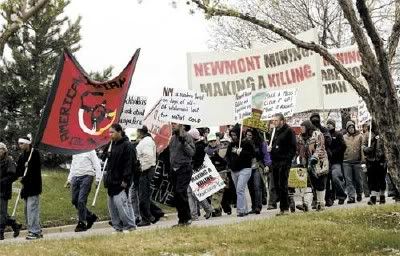 AP Photo/Ed Andrieski -- Stop Newmont Alliance and American Indian Movement members protested Newmont Mining Corp. at its annual meeting in Englewood, Colo., on April 25. Pollution and scarred lands resulting from Newmont's gold mines around the world prompted the protest, which included indigenous from Peru, Indonesia and Ghana.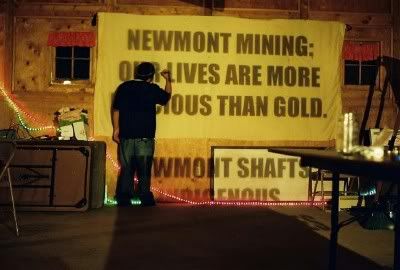 The banners and signs in the photos were created by the hardworking members of the Indigenous Peoples Power Project
The tireless IP3 members worked late into the night, swapping ghost stories and breaking to sled down the nearby slopes. The banners completed, they were delivered to the protest site and positioned at the exit routes so that the Newmont shareholders coulnd't ignore their message.
Much respect goes out to the IP3.